"Long weekends" are a great time for vacation, travel, get-together to spent quality time with family and friends..
When is the next long weekend? This is one of the most common question we hear around the office, schools and social gatherings.
Regardless of how much you enjoy your job or how limited your leaves are, we all need a healthy work-life balance to be happy and successful with our family and friends. For those who are working full-time for an employer, you have a limited number of paid vacation days given each year. However you also have a set number of annual holidays when the company or office is closed. You can combine your leave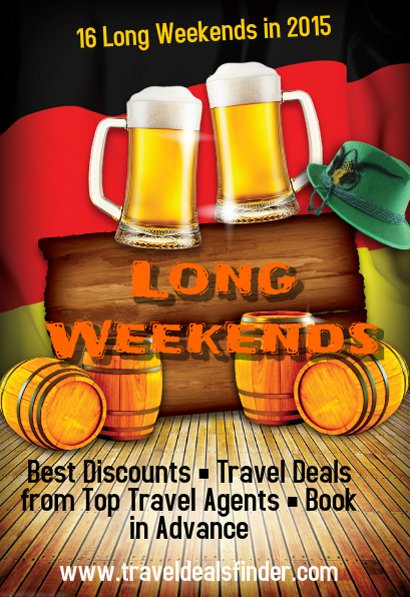 s with national holidays and what you get an extremely long weekend for your dream holidays.
Long Weekends in India 2017
Plan you vacation in advance for these long weekends of 2017
Here you will find the upcoming long weekends in India. Use this site to identify your upcoming long weekends and begin planning now!
Note: It is better to book in advance for long weekends to get better deals and offers.
Long Weekends and Public Holidays in 2017
August 2017

18 Aug
Tuesday
Parsi New Year
Club with 15 Aug (Independence Day) Holiday with 18 Aug. Make it a 4 Day long holiday by taking one leave on Monday.
28 Aug
Friday
Onam
3 Day long weekend in South India

September 2017

17 Sept
Thursday
Ganesh Chaturthi
4 Day Long Weekend with 1 Leave
25 Sept
Thursday
Bakrid (Id-ul-Zuha)
4 Day Weekend with 1 leave on Friday

October 2017

2 Oct
Friday
Gandhi Jayanti
3 Day Long Weekend
21 Oct
Wednesday
Durga Ashtami, Maha Navami
5 Day Extra Long Weekend with 1 Leave
22 Oct
Thursday
Dussehra
30 Oct
Friday
Karwa Chauth
3 Day Long Weekend (Romantic Getaway can be planned)

November 2017

11 Oct
Wednesday
Diwali
Can become extremely long weekend for few and 3-4 day weekend for many
12 Oct
Thursday
Gowardhan Puja
13 Oct
Friday
Bhaiya Dooj
17 Oct
Tuesday
Chhath Puja

December 2017

25 Dec
Friday
Christmas
3 Day Long Weekend
1 Jan 2017
Friday
New Year
3 Day Long Weekend
*Note: Dates of some lunar based festivals can be change, without prior notice. Kindly check with official calendars for your holiday dates before booking for your long weekend tour vacation.
Some of the most popular long weekend destinations in India are: Kerala, Andamans and Nicobar Islands, Kashmir, Leh and Ladakh, Kumaon Tour (Nainital, Almora, Ranikhet, Binsar, Kausani, Corbett), Garhwal Tour (Mussoorie, Rishikesh, Haridwar, Tehri), Auli, Manali, Shimla, Dalhousie, Dharamshala with Macleodganj, The Golden Triangle Tour (Delhi, Jaipur, Agra), Darjeeling with Sikkim, South India Temple Tours, Orissa Tour (Puri, Konark, Bhubaneshwar), Goa, Discover Madhya Pradesh (Khajuraho, Bandhavgarh, Bhimbetka, Chhindwara, Chitrakoot, Kanha, Ujjain), Rajasthan (Jaipur, Udaipur, Jaisalmer, Ajmer, Mount Abu, Pushkar, Ranthambore)
Some of the most popular long weekend international destinations from India are: Dubai (Dubai Shopping Festival 2015), Singapore, Australia, Macau, Italy, Spain, France, Malaysia, Maldives, Mauritius, Thailand, Sri Lanka, Switzerland, London
Contact us for Best Travel Deals