14 DAYS EXOTIC NATURE, CULTURE AND ADVENTURE SUMATRA / A from Sumatra Tours
Inclusions:
Accommodation, Air condition transport ,Daily breakfast, English speaking tour guide, Escort, Entrance fee, Permit, Porter and Refreshment.
Itinerary:
DAY 01 : MEDAN – BUKIT LAWANG ( BUKIT LAWANG COTTAGE)
Upon arrival at Polonia Airport, pick up by our Tour Guide and then transfer to town for city tour visiting Sulthan Palace, Great Mosque and Kesawan Area( Old center of Medan) and then drive to Bukit Lawang, on the way stop at Rubber and Palm Oil plantation, arrival at Bukit Lawang check in to hotel, afternoon free at own leisure.
DAY 02 : BUKIT LAWANG TRACKING. B,L
After breakfast walking to the jungle to see the Orang Utan by crossing the river with traditional canoe and then tracking to the feeding site to see the Orang Utan on their feeding time.After feeding continue tracking on Leuser National Park for three hours tracking, where you can see more Orang Utan in their own habitat, several kind of monkey like long tail Macaca, Black Gibbon, Lizard and other animal, afternoon return back to hotel and free at own leisure.

DAY 03 : BUKIT LAWANG – BRASTAGI – LAU KAWAR. (MARI GUEST HOUSE) B
After breakfast drive to Brastagi with stop at Sembahe river and Sukulikap waterfall and visit Batak Karo traditional village at Peceren, fruit market, and then continue drive to LAU KAWAR ( A small village near a small Lake at the slope of Sinabung Vulcano, surrounding by several plantation such as Orange (Mandarin), Marquise and Vegetables, such us Colli flower, cabbage, afternoon check in to hotel.
DAY 04 : LAU KAWAR – TOUR OR SINABUNG CLIMBING. B, L
Today for Mountain climber will start climbing Sinabung Vulcano early in the morning and will arrive at the Top of Sinabung in the Morning where you can enjoy the Sun Rise, after take a rest and explore Sinabung Volcano, return back to the hotel and will arrive at the hotel at noon and the rest of the day free at own leisure." For non climber will start a walking tour to the villages and farmer area where you can see the daily life of Batak Karo people, experience how to plan vegetable, rice or pick up the fruit on the tree during the harvest time"
DAY 05 : LAU KAWAR – SAMOSIR (SILINTONG HTL) B
After breakfast drive to Parapat on the way visit Sipiso-piso waterfall, Rumah Bolan ( Long House ) the old palace of Batak Simalungun Kings and Simarjarunjung to see the view of Lake Toba, upon arrival at Parapat crossing to Samosir Island by ferry boat arrival at Samosir check in to hotel.
DAY 06 : SAMOSIR TRACKING OR MOTOR BIKING. B
After breakfast you may choose to explore Samosir Island " The Area of Batak Toba people" by Motor Cycle to the Top of Samosir Hill to see Small Lake at the Top of the Hill called Sidahoni Lake, where of the way visiting several Batak Toba village, to see the activities of local people such us visiting children on the school, visiting the village where the local people make traditional hand weaving and other activities. When you prefer tracking, our tour guide will accompany tracking to the jungle on Samosir Island with the possibility to stop at several villages. Afternoon return back to hotel.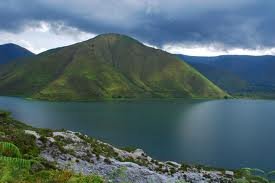 DAY 07 : SAMOSIR – SIPIROK. ( TOR SIBOHI HTL) B
After breakfast crossing back to Parapat and arrival at Parapat drive to Sipirok, on the way stop at Pineapple, clove, and coffee plantation and visiting traditional market at Balige Sigur-gur and Sipoholon Hot Springs. Before arrival at Sipirok the day enjoy the nature by walking at the bank of Sarulla river, the rice terrace and arrival at Sipirok check in to hotel.
DAY 08 : SIPIROK – BUKITTINGGI. ( DENAI HTL)
Leave Sipirok for Bukittinggi by passing rain tropical forest of Rimba Panti and stop will be made to see the attraction of monkey picking up the coconut. Visit pepper, vanilla, cardamon and cinnamon garden, and crossing the equator line at Bonjol, afternoon arrival at Bukittinggi the charming towns of Minangkabau directly check in to hotel.
DAY 09 : BUKITTINGGI – TRACKING TO SIANOK CANYON.
After breakfast drive to Sianok Canyon and then start tracking on Sianok Canyon by explore the River, jungle, rice field on Sianok Canyon , and then continue tracking to KOTO GADANG Village which is famous for its Silver work. Afternoon arrival at Koto Gadang Village pick up by driver and then drive back to Bukittinggi.
DAY 10 : BUKITTINGGI – MINANG KABAU TOUR.
After breakfast drive to Batu Sangkar via Tabek Patah, on the way stop at Rao-Rao to visit Minangkabau traditional village and stop to see traditional village and stop to see traditional coffee milling, arrival at Batu Sangkar drive to Pagaruyung to visit the Palace of Minangkabau Kingdom, afternoon return to Bukittinggi via Padang Panjang and visit Pandai Sikat village to see Minangkabau traditional hand weaving and wood carving.
DAY 11.BUKITTINGGI – PUNCAK LAWANG TRACKING TO MANINJAU (PASIR PANJANG HTL) B
After breakfast drive to Punacak Lawang, on the way stop at Koto Gadang village to see traditional silver work and arrival at Puncak Lawang tracking to Minjau via Lawang jungle on the way down to Lake Maninjau enjoying coffee break at traditional coffee shop in the jungle, during the tracking the opportunity to walk at the bank of rice field and village. Upon arrival at Maninjau check in to hotel.

DAY 12 : MANINJAU – FREE. B
Today is your free time to swim on Lake Maninjau , walking or cycling around the Lake .
DAY 13 : MANINJAU – PADANG ( INNA MUARA / SIMILAR) B
After breakfast drive to Padang via Pariaman with stop at Artha beach and arrival at Padang visit Muara beach and then check in to hotel.
DAY 14 ; HOTEL – AIRPORT / TRANSFER
After breakfast transfer to Airport for your flight to next destination and for the participant who want to continue their trip to South Sumatera Adventure, will stay extra night in Padang with tour to Big root bridge at Padang .
Exclusions: Air fare, airport taxes, Insurance, Donation, Tips, and all personal gratuities.
For booking and more details contact sumatratours.com
---
---
Package Posted on : Sep 12, 2012
Package Valid for Limited Period Only
---
To Get the latest 2022 quote for this "14 DAYS EXOTIC NATURE, CULTURE AND ADVENTURE SUMATRA / A from Sumatra Tours" travel deal package, contact our travel agent by this Travel Booking Form
Note: The rates mentioned in this package are lowest and subject to change without prior notice. The peak season rates are different as mentioned here, kindly contact the travel agent before booking.