Passage to North & East India for 11 Nights / 12 Days from Culture Holidays
Delhi – Jaipur – Agra- Varanasi – Darjeeling – Kolkata – Delhi
Duration: 11 Nights / 12 Days
Itinerary:
Day 01 / Arrival Delhi
Arrive Delhi, meet assist at the airport & transfer to hotel. Night stay in Delhi.
Day 02 / Delhi
After breakfast gear up for your visit of Old & New Delhi :
OLD DELHI – A sightseeing tour of Old Delhi would entail visiting the Raj Ghat – the cremation site of Mahatma Gandhi is one of the most visited sites in Delhi. It consists of a simple square black-marble platform that stands on the spot where Mahatma Gandhi was cremated. Nearby, there are cremation sites of Jawaharlal Nehru – the first Prime Minister of India, Indira Gandhi, Sanjay Gandhi, Rajiv Gandhi and Lal Bahadur Shastri. Jama Masjid – the largest mosque in India. Red Fort – One of the most spectacular pieces of Mughal Architecture is the Lal Quila or the Red Fort. Built by the Mughal emperor, Shah Jahan between 1638 and 1648, the Red Fort has walls extending up to 2 kms. in length with the height varying from 18 mts. on the river side to 33 mts. on the city side. Chandni Chowk – a place that has a history of about 400 years. More evidences of the ancient times that once existed in old Delhi can be found out by winding through the labyrinthine lanes of Chandni Chowk in a rickshaw. The pleasure associated with the Rickshaw Ride here is ultimate. The rickshaw rides gives the passengers an opportunity to see a different prospective of Chandni Chowk, which is otherwise only regarded as one of the favourite shopping avenues of Delhi.
The evening is free to be spent at your leisure. Night stay in Delhi.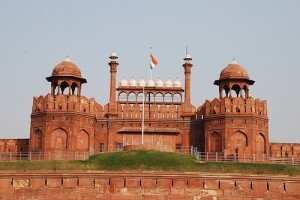 Day 03 / Delhi – Jaipur (By Superfast air-conditioned train Dep 0610Hrs Arr 1040Hrs )
Early morning pick up from hotel & transfer to railway station to board the superfast airconditioned train to Jaipur. Breakfast in the train. Arrive Jaipur and transfer to hotel. Later sight seeing tour of Jaipur.Night stay in Jaipur.
Day 04 / Jaipur
After a relaxed breakfast proceed for a morning excursion to Amber Fort. Elephant Ride ascent to the fort.
AMBER FORT PALACE – Amber is the classic romantic Rajasthani fort palace. Its construction was started by Man Singh I in 1592, and completed by his descendent Jai Singh I. Its forbidding exterior belies an inner paradise where a beautiful fusion of Mughal and Hindu styles finds it's ultimate expression. Continue sight-seeing. JAIGARH FORT –  Night stay in Jaipur.
Day 05 / Jaipur – Agra ( By road approx 235kms/ 05Hrs ) enroute visit Fatehpur Sikri
After breakfast drive to Agra enroute visiting Fatehpur Sikri- The deserted, red Sandstone City, Emperor Akbar built that as his capital and palace in the late 16th century is an exhilarating experience. It a veritable fairytale city and its "ruins" are in pristine condition … it's not hard to imagine what the court life must have been like in the days of its grandeur. Also visit the Bulund Darwaza, the largest gateway in the world. Continue drive to Agra and transfer to hotel. Evening free to explore the rich handicrafts of Agra. Night stay in Agra.


Day 06 / Agra – Varanasi ( By overnight train in air-conditioned sleeper class Dep. 2330Hrs Arriv 1155Hrs. )
Early morning at sunrise visit TAJ MAHAL – the fifth Mughal emperor, Shah Jahan, built it in 1631 in the memory of his second wife, Mumtaz Mahal, a Muslim Persian princess. She died while accompanying her husband in Behrampur in a campaign to crush a rebellion, after giving birth to their 14th child. Her death so crushed the emperor that all his hair and beard were said to have grown snow white in a few months. When Mumtaz Mahal was still alive, she extracted four promises from the emperor: first, that he build the Taj; second, that he should marry again; third, that he be kind to their children; and fourth, that he visit the tomb on her death anniversary. He kept the first and second promises. Construction began in 1631 and was completed in 22 years. Twenty thousand people were deployed to work on it. An Iranian architect designed it and it is best appreciated when the architecture and its adornments are linked to the passion that inspired it. It is a "symbol of eternal love". A ride on Tonga upto Taj is sheer fun and frolic all through.
Late evening transfer to railway station to board the air-conditioned train to Varanasi. Overnight in air-conditioned sleeper class.
Day 07 / Varanasi
On arrival in Varanasi railway station meet assist and transfer to hotel. Later sight seeing of Varanasi (The land of Varanasi (Kashi) has been the ultimate pilgrimage spot for Hindus for ages. Often referred to as Benares, Varanasi is the oldest living city in the world. These few lines by Mark Twain say it all: "Benaras is older than history, older than tradition, older even than legend and looks twice as old as all of them put together". Hindus believe that one who is graced to die on the land of Varanasi would attain salvation and freedom from the cycle of birth and re-birth. Abode of Lord Shiva and Parvati, the origins of Varanasi are yet unknown. Ganges in Varanasi is believed to have the power to wash away the sins of mortals ) covering Temples, Aurangazeb's Mosque and one of the biggest university of India. Evening view "Aarti" ceremony on the Ghats. Night stay in Varanasi.
Day 08 / Varanasi – New Jalpaiguri ( By aircondtioned train Dep 2225Hrs Arrv 1145Hrs, nearest railway station to Darjeeling )
Morning boat cruise at the river Ganges to observe the way of life of pilgrims by the Ghats. Later excursion to Sarnath, 10kms & East of Varanasi, is the place where Buddha chose to deliver his first sermon. The celebrated Mantra, 'Buddham Sharanam Gachhami', owes its origin to Sarnath. On the day before his death Buddha included Sarnath along with Lumbini, Bodh Gaya and Kushinagar as the four places he thought to be sacred to his followers. It makes Sarnath one of the most venerated Buddhist places. Besides Buddhism, Sarnath is also connected with Jainism. There are many Buddhist monuments and edifices in Sarnath. Some of the important Buddhist monuments at Sarnath are the Dhamekha stupa, the Chaukhandi stupa and monasteries and temples of different schools of Buddhism from Japan, China, Thailand, Burma and others. The Indian Buddhist society called Mahabodhi Society maintains a park around the Buddha temple. The Mahabodhi Temple within the park has a tooth relic of the Buddha.There is also a vast expanse of ancient ruins at Sarnath. Several Buddhist structures were raised at Sarnath between the 3rd century BC and the 11th century AD, and today it presents the most expansive ruins amongst places on the Buddhist trail. The Ashoka pillar of Sarnath is the National emblem of India. Also visit the Deer Park and the Museum and later back to Varanasi to board the air-conditioned train to New Jalpaiguri ( nearest railway station to Darjeeling ). Overnight in air-conditioned sleeper class.
Day 09 / Darjeeling
Arrive New Jalpaiguri ( nearest railway sttaion to Darjeeling ) and transfer to Darjeeling ( 94 Kms/3hrs) – The name Darjeeling is thought to be a derivation of 'Dorjeeling' meaning the place of the Dorjee, the majestic thunderbolt of the Lamaist religion. In fact, the famous Buddhist Monastery standing at the top of the Observatory hill was known by this name. The district was the part of the dominions of the Raja of Sikkim upto the beginning of the 18th century. Night stay in Darjeeling.
Day 10 / Darjeeling Sightseeing
Early morning start for Tiger Hill – Passing through primitive forests of Oak, Magnolia etc. with beautiful ferns ablaze with colour, adorning the hill-sides is the steeply ascending road to Senchal , running through Ghoom on its way to Tiger Hill , 11 kms from the town and at an elevation of 2,590m (8482 ft). Visit Ghoom Monastery and Batasha Loop War Memorial – Aboard the 'Toy Train' from Siliguri to Darjeeling just below Ghoom and 5 kms from Darjeeling is the Batasia Loop, an engineering marvel and feat. Visit to the all and Local Market (City Life). Enjoy the Historical Toy joy ride provided the train is running for the day. Night stay in Darjeeling.
Day 11 / Darjeeling – Kolkata ( By flight )
Transfer to Bagdogra airport to board the flight to Kolkata – is the capital city of West Bengal state in India. The city which is the cultural capital of whole India and the commercial capital of Eastern India. The city was earlier known as Calcutta, being pronounced since the British rule and has changed to Kolkata officially in 2001, has derived the name from Kalikata, which is a village name in the area before the British arrival, means the land of Goddess "Kali". On arrival in Kolkata meet assist at airport and transfer to hotel. Later in the afternoon sightseeing tour of Kolkata covering important landmarks of the city like Victoria Memorial – The building is 184 ft high upto the base of the figure of Victory, which is another 16 ft high. The groups of figures above the north porch represent Motherhood, Prudence and Learning. Surrounding the main dome are figures of Art, Architecture, Justice, Charity etc. The Memorial is situated on a 64 acres of land with the building covering 338 ft by 228ft, New Howrah Bridge – Bridge was renamed as Rabindra Setu on 14th June 1965. The new Howrah Bridge is technically a `cantilever truss` bridge, constructed exclusively by `riveting`, without nuts or bolts. The bridge was made by using more than 26,500 MT of high-tensile steel and it is 705 meters long and 97 feet wide. It is supported by two piers, each nearly 90 meters above the road. Seeing the importance of calcutta and Howrah in the economic sphere, a need arose to build a bridge connecting Howrah, which resulted in the construction of the famous Floating Pontoon Bridge in 1874. Then this bridge was replaced by the new Howrah bridge and the final cost of the bridge amounted to £2,500,000.etc. Later return to hotel. Night stay in Kolkata.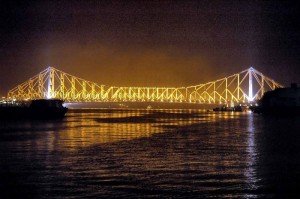 Day 12 / Kolkata – Departure
Transfer to airport to board the flight for your onwards destination.
Includes:
» 09 Nights accomodation as per the itinerary with daily breakfast + 02 nights in overnight train.
» All three meals ( breakfast , lunch & dinner ) at the time of staying in Darjeeling.
» All transfers, sightseeing, excursion as per the itinerary by exclusive airconditioned car ( Except in Darjeeling where Non air-conditioned vehicle shall be provided as air-conditioned does not work due to high altitude ).
» Local English speaking guides.
» Boat ride in Varanasi.
» Elephant ride in Jaipur. ( subject to availability )
» Train tickets from Delhi – Jaipur by air-conditioned chair car, Agra – Varanasi & Varanasi – New Jalpaiguri by air-conditioned sleeper class.
» Historical Toy ride in Darjeeling.
» All taxes, driver allowances, permit, parking , fuel charges.
Doesn't Include:
» Entrance fee to monuments.
» Cost of personal nature like camera fee, tips, laundry, porterege.
» Any airfare.
» Any item not mentioned in cost includes.
Hotels Selected – Luxury (5* Deluxe)
Delhi : The Oberoi / The Imperial
Agra : The Oberoi Amarvilas
Jaipur : The Oberoi RajVilas
Darjeeling : Windamere or Similar
Varanasi : Taj Ganges / Radisson
Kolkata : The Oberoi Grand
Hotels Selected – Royal (5* Deluxe)
Delhi : The Metropolitan / The Lalit / The Grand
Agra : Jay Pee Palace / Taj View / Trident
Jaipur : Hotel Trident / Le Meridien
Darjeeling : Windamere or Similar
Varanasi : Taj Ganges / Radisson
Kolkata : The Park / Hindustan
Hotels Selected – Classic (4*)
Delhi : The Connaught / Hotel City Park / De Marks
Agra : Clarks Shiraz / Holiday Inn
Jaipur : Hari Mahal Palace/ Wall Street / Hotel Clarks Amer / Ramada Plaza / Country Inn & Suits by Carlson
Darjeeling : The Elgin or Similar
Varanasi : Clarks Varanasi / Ideal Tower
Kolkata : Peerless Inn
Hotels Selected – Jewel (3* – 4* & Heritage)
Delhi : Hotel Gautam Deluxe / Hotel Sunstar
Agra : Hotel Amar / Hotel Usha Kiran
Jaipur : Hotel Jas Vilas / Nana ki Haveli / Dera Rawatsar
Darjeeling : Cedar Inn or Similar
Varanasi : Hotel India / Meraden Grand
Kolkata : Fairlawn Hotel
Hotels Selected – Economy (2* Moderate)
Delhi : Hotel Blue Bell / Hotel De Gold
Agra : Royale Residency / Hotel Pushapvila
Jaipur : Hotel Vijay Niwas / Hotel Sarang Palace
Darjeeling : Cedar Inn or Similar
Varanasi : Hotel India/ Meraden Grand
Kolkata : Fairlawn Hotel
For booking and more details contact cultureholidays.com
---
---
Package Posted on : Aug 25, 2012
Package Valid for Limited Period Only
---
To Get the latest 2022 quote for this "Passage to North & East India for 11 Nights / 12 Days from Culture Holidays" travel deal package, contact our travel agent by this Travel Booking Form
Note: The rates mentioned in this package are lowest and subject to change without prior notice. The peak season rates are different as mentioned here, kindly contact the travel agent before booking.