20 Days Sumatra – Java and Bali Overland Tour from Floressa Bali Tours
Itinerary:
DAY 01 : MEDAN
On arrival at Polonia Airport of Medan – North Sumatra, Our guide will meet you and transfer to Tiara Hotel for accommodation and to enjoy  a welcome dinner in the hotel restaurant. (D)
DAY 02 : MEDAN – BRASTAGI – LAKE TOBA
Breakfast at hotel. We drive through the lush mountain of Sumatra to hill resort and market town of Berastagi. You will also visit a village of the local tribes people, the formerly cannibalistic Karo.  Explore into Karo Batak tribal territory, we visit Lingga village to see 32 large painted and decorated longhouses. Then drive via a plantation road passing Pematang siantar where you can enjoy beautiful scenery. Afternoon  arrive in Parapat direct cruise on Lake Toba to  the island for overnight stay in the quiet town of Tuk Tuk. On arrival direct check-in to Silintong Hotel. (B,L,D)

DAY 03 : LAKE TOBA
Breakfast at hotel. An excursion on Lake Toba and Samosir island, visiting traditional village of  Simanindo, Ambarita, and Tomok to see the tomb of King Sida Butar which made of neolithic stone 200 years ago, the old houses of Batak Toba and chairs made of stone architecture style. Return to hotel.  Afternoon free at leisure. (B,L,D)
DAY 04 : LAKE TOBA – SIPIROK
Breakfast at hotel. Leaving Samosir Island and continue our overland to the South with stop at Balige, a graceful market town. The market buildings have traditional high sweeping roofs. Balige is known for its fine Batak tribal cloth. From here you will tarvel southwards, following the cool highlands to the town of Sipirok. Accommodation at Torsibohi Nalui Hotel. (B,L,D)
DAY 05 : SIPIROK – BUKIT TINGGI
Breakfast at hotel. Depart along drive to the lovely town of Bukit Tinggi in the Wet Sumatra province. On the way stop will be made at Sosor Tolang and Purba baru village (Moeslem school ), Rimbo Panti and the Bonjol Equater Monument. Accommodation and dinner at Pusako Hotel. (B,L,D)
DAY 06 : BUKIT TINGGI
Breakfast at hotel. Explore Bukit Tinggi area, enjoy the spectacular view of Sianok canyon, visit Ford De Kock with breathtaking view to Marapi volcanic mountain  and museum Putri Bungsu and the briliant tropical plants of the Panti Nature Reserve. Proceed to the hinterland of Minangkabau tribe and be with local people to observe their custom and believed. Return to hotel. (B,L,D)
DAY 07 : BUKIT TINGGI – PADANG
Breakfast at hotel. Drive back to Padang via lake Singkarak, visit Pagaruyung Kingdom – the only kingdom in Indonesia which has ruled by a Queen. Afternoon arrive in Padang, direct check-in to Hotel Sedona or similar for accommodation and meals. (B,L,D)
DAY 08 : PADANG – JAKARTA (JAVA)
Breakfast at hotel. Transfer to the Airport to depart for Jakarta. On arrival at Soekarno Hatta Airport, our guide will meet you and transfer to Raddison Hotel or similar for accommodation. (B)
DAY 09 : JAKARTA – BOGOR – BANDUNG
Breakfast at hotel. Morning visit the National Monument and Taman Mini Indonesia Indah (Indonesia in Miniature) to observe the 160 Ha beautiful Indonesia part completed with orchid, Bird park, 27 Traditional Houses where handicrafts are exhibited. Drive to Bandung and stop at Bogor to see the beautiful town of Bogor located at the site one of the world's most outstanding botanical gardens. The Bogor botanical gardens hosts more than 15,000 species of trees and plants and over 5,000 species of tropical orchids. Lunch at local restaurant in Puncak. Onto Bandung and accommodation at Hotel Panghegar or smiliar. (B)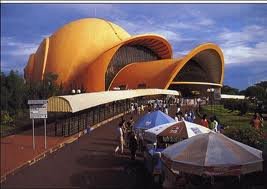 DAY 10 : BANDUNG
Breakfast at hotel. Tour to see the breath-taking view of Mount Tangkuban Perahu Crater. Then to the hot spring at Ciater and lunch at local restaurant,  procced to the Padasuka village to listen to the melodious Angklung music performance. Return to hotel for accommodation. (B)
DAY 11 : BANDUNG – BATURADEN
Breakfast at hotel. Depart to Cangkuang Lake, a small lake in the vicinity of Garut around 70 km south of Bandung. Visit the Cangkusng Temple which is found in West Java standing on an island in the middle of the lake reaching it by crosing the lake on bamboo rafts. Continue to Tasikmalaya for lunch and visit local handicraft. Crossing the border to Central Java passing teakwood and rubber plantations to Baturaden. Overnight at Queen Garden Hotel or similiar. (B,L)
DAY 12 : BATURADEN – YOGYAKARTA
After breakfast drive to Wonosobo. Excursion to Dieng Plateau about 2600 m above sea level with some of Java's oldest temples standing on an open field. lunch at local restaurant in Wonosobo. Drive further to the Borobudur temple. Late afternoon continue to Yogyakarta. Overnight at Melia Purosani Hotel or Similar. (B,L)

DAY 13 : YOGYAKARTA
Breakfast at hotel. Morning free at leisure. Afternoon visit the Sonobudoyo  Museum, the Sultan's palace, the water castle at Taman Sari, the batik home industry and Kota Gede silver works center. Then drive to Purawisata to attend Ramayana Dance show with dinner. Return to hotel. (B)
DAY 14 : YOGYAKARTA – SOLO – BROMO
Breakfast at hotel. Visit the magnificent 9th century Hindu Temples of Prambanan. Driving via the town of  Solo to Tretes, a mountain resort 54km South of Surabaya. Lunch at local restaurant enroute. Check – in at Hotel Grand Bromo. (B,L)
DAY 15 : BROMO
Early morning drive by a jeep to Cemoro Lawang village and Mount Penanjakan (2770m ) where you can admire the beautiful sunrise and unique view. After sunrise we continue to Mt. Bromo and pass the spectcular "sea of sand", ride on a horse and finally climbing 245 stair cases to reach the rim of crater. After enjoying the lovely sunrise and view of Mount Bromo, retun to hotel for having breakfast. Afternoon trekking around Cemoro Lawang village. (B,L)
DAY 16 : BROMO – BALI
Breakfast at hotel. Departure for Bali at 8.30 AM. On arrival transfer to Patrajasa Hotel or similar for accommodation. (B)
DAY 17 : BALI
Breakfast at hotel. Visit art and handicraft villages of Celuk, Batuan, Mas and Ubud, for gold and silver work, hand weaving wood carving and paintings. Proceed to Goa Gajah (Elephant Cave) a Hindu Meditation Center dating back to the 11th Century, Tampak Siring to see the Holy Spring water Temple Tirta Empul, then to admire the magnificent view combination of the still active Mt. Batur volcano and Lake Batur. Return through Bangli to see 13th century Kehen Temple and breathtaking view of rice terraces and palm trees at Bukit Jati. (B,L)
DAY 18 : BALI
Breakfast at hotel. A trip to Mengwi to view the beautiful Taman Ayun Royal Temple and to the holy monkey forest at Kedaton – noted for its temples inhabited by s colonies of friendly monkeys. Then, on to Tanah Lot temple built on a small, off-shore island of barren-rock. Return to Hotel(B)
DAY 19 : BALI
Breakfast at hotel. Full day free at or joint or optional tour to get to know about Bali more. (B)
DAY 20 : BALI – OUT
Breakfast at hotel. Transfer to the Airport to depart for your next destination. (B)
For booking and more details contact floressa-bali.com
---
---
Package Posted on : Sep 13, 2012
Package Valid for Limited Period Only
---
To Get the latest 2022 quote for this "20 Days Sumatra – Java and Bali Overland Tour from Floressa Bali Tours" travel deal package, contact our travel agent by this Travel Booking Form
Note: The rates mentioned in this package are lowest and subject to change without prior notice. The peak season rates are different as mentioned here, kindly contact the travel agent before booking.