Goa Sunset Cruise Package from GTDC Goa Tourism Rs.150/-

Goa Sunset Cruise
* Dep 6.00 pm (1 hr duration)
* Rs 150/- per head
This cruise is generally included in the North Goa Tours arranged by the GTDC. This is an hour long cruise on the Santa Monica which takes guests out on a leisurely sail down the River Mandovi from the Santa Monica jetty in Panaji. While the vessel sails serenly down the river past the beautiful Adil Shah Palace that was once the first building in Panjim City. This was the summer palace of the Sultan which was then used by the Viceroy of Portugal and finally by the government of Goa as its Secretariat. Now that a new Secretariat is in use on Porvorim Hill across the river Mandovi, the Adil Shah Palace wil be turned into a cultural centre with art galleries and concert halls, etc.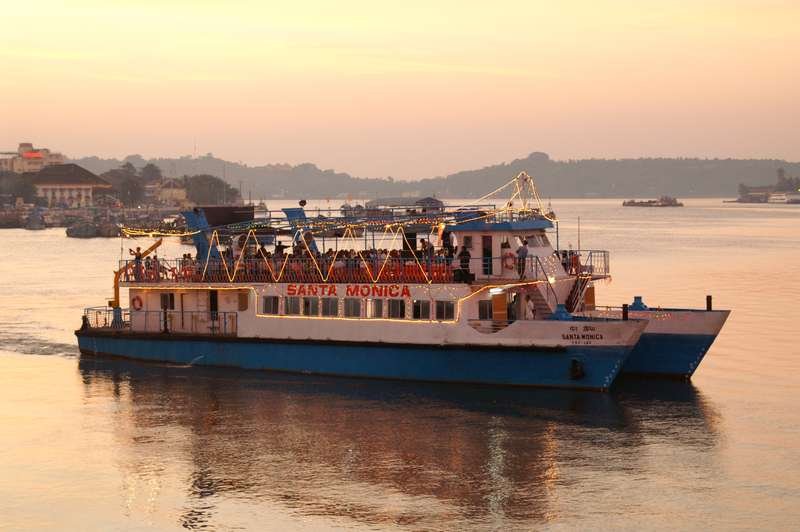 While you sail down the river local boys and girls treat you to some Goa's best known folk dances, the dekhni and the fugdi. They sing mandos and finally give over centrestage to live musicians or a DJ and the guest can then sing and dance and generally make merry. This cruise is a huge success with people of all ages, men, women and children.
The Santa Monica then takes you past the Panjim riverfront past the jetty and old colonial buildings on past the Promenade with its lovely tree lined avenues past Miramar where you sit and watch one of Goa's spectacular sunsets. You can see the spread of the Mormugao Port and the mass of the Aguada Fort and as the shadows lengthen you find yourself transported back in history to the time when all visitors who landed on these shores loved Goa so much they wanted to possess her.
The Santa Monica then turns around and sails back to her jetty along the silent Mandovi, past the pretty cottages of Betim
GTDC does advance bookings/reservations of its hotels and other facilities like, tours, cruises, transport etc through its Central Reservation Office which is situated at its Panaji Residency at Panaji, Goa.
For bookings/reservations you can contact the Central Reservation Office of Goa Tourism through :

Phone Nos.: +91 0832 2436666 / 2424001 / 2424002 / 2424003
Fax No.: +91 0832 2423926/2420779
Email : reservations@goa-tourism.com
Visit: http://www.goa-tourism.com
---
---
Package Posted on : Mar 22, 2011
Package Valid for Limited Period Only
---
To Get the latest 2022 quote for this "Goa Sunset Cruise Package from GTDC Goa Tourism Rs.150/-" travel deal package, contact our travel agent by this Travel Booking Form
Note: The rates mentioned in this package are lowest and subject to change without prior notice. The peak season rates are different as mentioned here, kindly contact the travel agent before booking.