How to Reach Andhra Pradesh
Planning to Visit Andhra Pradesh? Find the various ways to travel to Andhra Pradesh by Road, Cars, Trains, Indian Railways, Flights, Airlines and Airports in Andhra Pradesh.
Location of Andhra Pradesh
Andhra pradesh is located in the southern part of India. It is the 5th largest state in India and the largest in South India, surrounded by Orissa, Tamil Nadu and Karnataka.
Getting Here – How to Reach Andhra Pradesh
There is an excellent infrastructure of roads, rail facilities, airports and ports, which makes Andhra Pradesh easily accessible from every part of India and International cities.
By Air (Flights)
The main and only international airport in Andhra Pradesh is Hyderabad. Direct international connectivity to Hyderabad is available from many countries. International carriers operating from Hyderabad are Air India, Emirates, KLM Royal Dutch Airlines, Kuwait Airways, Lufthansa, Malaysia Airlines, Oman Air, Qatar Airways, Saudi Arabian Airlines, Singapore Airlines, Srilankan Airlines and Thai Airways.
Domestic flights connectivity is excellent with Air India (and their subsidiary Indian Airline), GoAir, IndiGo, Jet Airways, JetLite, Kingfisher, Paramount and SpiceJet operating from here.
The other domestic airports in Andhra Pradesh are at: Visakhapatnam, Vijayawada, Rajahmundry and Tirupati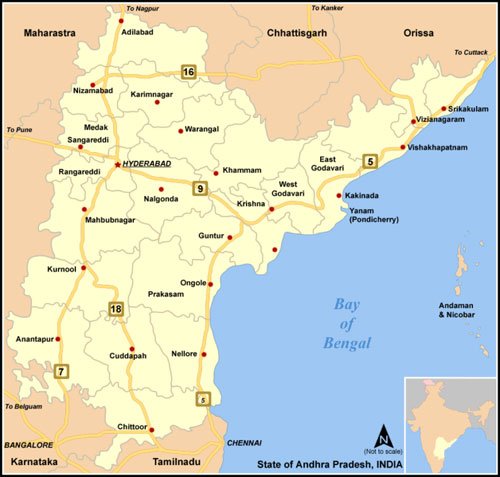 By Train (Rail)
Railways are a major means of transport in Andhra Pradesh, which connects all major cities and towns.
By Road
Andhra Pradesh State Road Transport Corporation (APSRTC) is the major public transport corporation owned by the government of Andhra Pradesh that connects all the cities and villages. Mahatma Gandhi Bus Station[M.G.B.S] in Hyderabad and Nehru Bus stand in Vijayawada are among the largest bus stands in the state. Thousands of private operators also run buses connecting major cities and towns. Private vehicles like cars, motorised scooters, and bicycles occupy a major share of the local transport in the cities and adjoining villages.
By Sea:
Andhra Pradesh has two of the major ports of India at Visakhapatnam and Kakinada and three minor ports at Krishnapatnam (Nellore), Machilipatnam, and Nizampatnam (Guntur).
If you have any suggestions, feedback regarding How to reach Andhra Pradesh/ road information, Andhra Pradesh flight, airlines information, which train to catch to reach Andhra Pradesh or You want to add/remove any particular information on this "How to reach Andhra Pradesh page" then please email us at: support(at)traveldealsfinder(dot)com (Do mention the URL of page for which you are making any suggestions).
Note
: All the Andhra Pradesh map images/ Videos of Andhra Pradesh belong to their respective owners. We have used Andhra Pradesh images & videos for information purpose only. If you are the owner & want to remove that image/video then do write us at mentioned email. Information on Flights, Rails, Road distance to Andhra Pradesh may be differ from actual so we request you to check Indian Railways, Airlines and other related Andhra Pradesh tourism department Govt website of for latest updates.