How to Reach Chhattisgarh
Planning to Visit Chhattisgarh? Find the various ways to travel to Chhattisgarh by Road, Cars, Trains, Indian Railways, Flights, Airlines and Airports in Chhattisgarh.
Chhattisgarh Location
Chhattisgarh is newly formed state, located in the central part of India. Chhattisgarh borders the states of Madhya Pradesh in the northwest, Maharashtra in the west, Andhra Pradesh in the south, Orissa in the east, Jharkhand in the northeast and Uttar Pradesh in the north.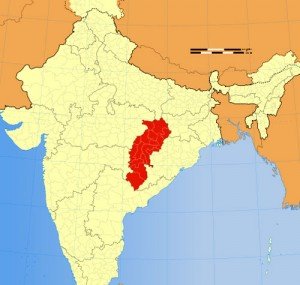 Getting Here – How to Reach Chhattisgarh
By Road:
Chhattisgarh has an excellent road network. All district headquarters, tehsils and development blocks are connected with good all-weather roads. The 11 national highways passing through Chhattisgarh together constitute 2,184 km of roads in the state, connecting from all the major cities in India.
By Train:
The rail network in Chhattisgarh is centered around Bilaspur, which is the zonal headquarters of South East Central Railway of Indian Railways. The other main railway junction is Raipur, followed by the Durg Junction, which is also a starting point of many long distance trains. These three junctions are well-connected to the major cities of India.
By Air (Flights):
The main commercially operating airport is in Raipur, it has regular flights from the top cities of the country, i.e. Delhi, Mumbai, Kolkata, Bhopal and Indore. It is also connected to Jaipur, Nagpur, Bhubaneshwar, Ahmedabad, Gwalior, Chandigarh, Hyderabad and Bangalore.
Airports in Chattisgarh: Raipur Airport, Bilaspur Airport, Jagdalpur Airport. There many other upcoming airports and air strips which will start soon to improve the air connectivity in the state.
If you have any suggestions, feedback regarding How to reach Chhattisgarh/ road information, Chhattisgarh flight, airlines information, which train to catch to reach Chhattisgarh or You want to add/remove any particular information on this "How to reach Chhattisgarh page" then please email us at: support(at)traveldealsfinder(dot)com (Do mention the URL of page for which you are making any suggestions).
Note
: All the Chhattisgarh map images/ Videos of Chhattisgarh belong to their respective owners. We have used Chhattisgarh images & videos for information purpose only. If you are the owner & want to remove that image/video then do write us at mentioned email. Information on Flights, Rails, Road distance to Chhattisgarh may be differ from actual so we request you to check Indian Railways, Airlines and other related Chhattisgarh tourism department Govt website of for latest updates.