How to Reach Pondicherry
Planning to Visit Pondicherry? Find the various ways to travel to Pondicherry by Road, Cars, Trains, Indian Railways, Flights, Airlines and Airports in Pondicherry.
Location of Pondicherry
Pondicherry (Puducherry) is surrounded on the east by the Bay of Bengal and on the south by South Arcot district of Tamil Nadu. The geographical location of Pondicherry is between 11°56' North Latitude 79°50' East Longitude.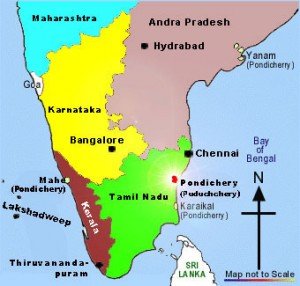 Getting here – How to Reach Pondicherry
By Air (Flights)
Pondicherry has an airport with facilities for the landing of small aircraft like Dornier, Cessna, etc. But it is not available for public use presently. The nearest international and domestic airport is in Chennai, which is around 135 kms from puducherry. Chennai has excellent connections with almost all cities in India and direction connection to Europe, USA, Middle East and South East Asia. Trichy airport is 220 kms away. Bangalore (320 kms) and Madurai are the other nearby airports.
By Rail
Villupuram is the nearest junction and fairly well connected to places like Chennai, Madurai and Trichy.
By Road
puducherry is well connected to all districts and major towns of various states like Tamilnadu, Karnataka, Kerala and Andra Pradesh. puducherry is best accessible by road, either by bus or by taxi. There are frequent buses, almost every 15 minutes in the day from Chennai new bus stand in Koyembedu. There are frequent buses to puducherry from places like Chidambaram, Thanjavur Trichy and Coimbatore. Especially private luxury buses are connecting puducherry with other major cities in Tamil Nadu and Bangalore.
Chennai to Pondicherry By Road
The road from Chennai to Pondicherry (the East Coast Road, commonly called ECR) is a scenic highway, most tourists cannot resist the seashore kissing the ECR and take a number of stops en route. This route passes through Mahabalipuram, Kalpakkam, Pudupattinam, Idaikkazhinadu (Alambara Fort), Mudaliarkuppam (has a cool boat house), Marakkanam (contains large areas under salt pans), Kanagachettikulam/Kalapet etc. before reaching Pondicherry.
The other route that can be taken to reach Pondy is through the National Highway 45 (NH-45) famously called as the Grand Southern Trunk GST Road. This route passes through Tambaram, Madhurantakam, Melmaruvathur, Tindivanam before reaching Pondicherry. Both the major roads from Chennai are toll roads and approximately take the same time.
Bangalore to Puducherry (Pondicherry) By Road
Pondicherry is about 320 km from Bangalore you can drive down National Highway 7 (NH-7) till Krishnagiri, take a left off the main highway (roadsigns mark the route) and then take National Highway 66 (NH-66) to Pondicherry. This route passes through Uthangarai, Chengam, Tiruvannamalai, Gingee and Tindivanam. One can reach Pondicherry either through Tindivanam (via Gingee) or Villupuram (via Thirukovilur). Gingee fort is also on the way to Tindivanam and worth spending some time. It is a Archealogical survey of India (ASI) Heritage site. The total travel time should be about 5-6 hours.
If you have any suggestions, feedback regarding How to reach Pondicherry/ road information, Pondicherry flight, airlines information, which train to catch to reach Pondicherry or You want to add/remove any particular information on this "How to reach Pondicherry page" then please email us at: support(at)traveldealsfinder(dot)com (Do mention the URL of page for which you are making any suggestions).
Note
: All the Pondicherry map images/ Videos of Pondicherry belong to their respective owners. We have used Pondicherry images & videos for information purpose only. If you are the owner & want to remove that image/video then do write us at mentioned email. Information on Flights, Rails, Road distance to Pondicherry may be differ from actual so we request you to check Indian Railways, Airlines and other related Pondicherry tourism department Govt website of for latest updates.