How to Reach Uttar Pradesh
Planning to Visit Uttar Pradesh? Find the various ways to travel to Uttar Pradesh by Road, Cars, Trains, Indian Railways, Flights, Airlines and Airports in Uttar Pradesh.
Location of Uttar Pradesh
Uttar Pradesh (UP) is located in northern part of India and shares its border with Rajasthan to the west, Haryana and Delhi to the northwest, Uttarakhand and Nepal to the north, Bihar to the east, Jharkhand to the southeast, and Madhya Pradesh to the southwest.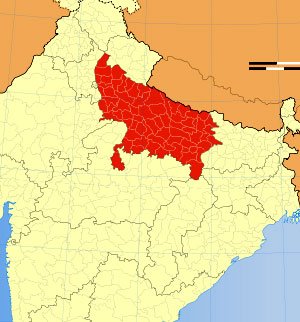 Getting here – How to reach Uttar Pradesh
By Air (Flights):
There are 6 domestic airports located at Agra, Allahabad, Gorakhpur, Kanpur, Lucknow, and Varanasi. Two of the airports, Chaudhary Charan Singh international airport in Lucknow and Lal Bahadur Shastri Airport in Varanasi, provide international service.
By Train:
UP have the largest railway network in the country. Allahabad is the headquarters of the North Central Railway and Gorakhpur is the headquarters of the North Eastern Railway. Lucknow Swarna Shatabdi Express, the second fastest shatabdi train, connects the Indian capital of New Delhi to Lucknow. The railway stations of Lucknow NR, Kanpur Central, Varanasi JN, Agra Cantt, and Mathura JN were included in the Indian Railways list of 50 world-class railway stations.
By Road:
UP have a large, multimodal transportation system with the largest road network in India. The state is well connected to its nine neighboring states and almost all other parts of India through the national highways (NH). It is connected by 42 national highways
The Uttar Pradesh State Road Transport Corporation provide economical, reliable, and comfortable transportation in the state with connecting services to adjoining states. All cities are connected to state highways, which carry traffic between major centres within the State. Other district roads and village roads provide villages accessibility to meet their social needs as also the means to transport agriculture produce from village to nearby markets.
The National Golden Quadrilateral of India passes through Jhansi, Agra, Kanpur, Allahabad, and Varanasi. There is an existing expressway between Lucknow and Kanpur, new expressways are being built between Agra and Noida and between Noida and Ballia, known as the Yamuna Expressway and the Ganga Expressway, respectively.
If you have any suggestions, feedback regarding How to reach Uttar Pradesh/ road information, Uttar Pradesh flight, airlines information, which train to catch to reach Uttar Pradesh or You want to add/remove any particular information on this "How to reach Uttar Pradesh page" then please email us at: support(at)traveldealsfinder(dot)com (Do mention the URL of page for which you are making any suggestions).
Note
: All the Uttar Pradesh map images/ Videos of Uttar Pradesh belong to their respective owners. We have used Uttar Pradesh images & videos for information purpose only. If you are the owner & want to remove that image/video then do write us at mentioned email. Information on Flights, Rails, Road distance to Uttar Pradesh may be differ from actual so we request you to check Indian Railways, Airlines and other related Uttar Pradesh tourism department Govt website of for latest updates.