How to Reach West Bengal
Planning to Visit West Bengal? Find the various ways to travel to West Bengal by Road, Cars, Trains, Indian Railways, Flights, Airlines and Airports in West Bengal.
Location of West Bengal
West Bengal is located in East of India and shares its border with countries of Nepal, Bhutan, and Bangladesh, and Indian states of Orissa, Jharkhand, Bihar, Sikkim, and Assam. West Bengal encompasses two broad natural regions: the Gangetic Plain in the south and the sub-Himalayan and Himalayan area in the north.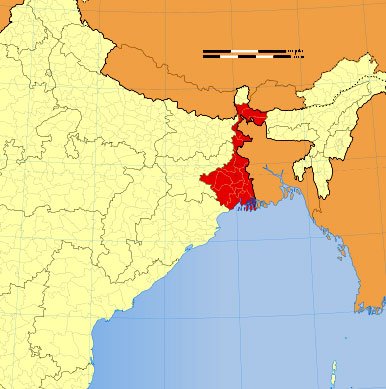 Getting here – how to Reach West Bengal
Kolkata is the gateway to the state but there are entry points all around and can be accessed by trains, bus, sea, etc.
By Air (Flights):
Netaji Subhas Chandra Bose International Airport at Dum Dum, Kolkata is the only International Airport in West Bengal. Bagdogra airport near Siliguri is another significant airport in the state.
By Sea:
The Kolkata Port Trust manages both the Kolkata docks and the Haldia docks. There is passenger service to Port Blair on the Andaman and Nicobar Islands and cargo ship service to ports in India and abroad, operated by the Shipping Corporation of India. Ferry is a principal mode of transport in the southern part of the state, especially in the Sundarbans area.
By Train:
Railways connects West Bengal with other states and cities. Howrah and Sealdah are the two rail stations in Kolkata, both very crowded and frenetic with activity. All trains to India north-eastern region originate and end at Sealdah and trains to west, central and south India operate from Howrah. Delhi, Mumbai, Chennai, Bangalore, Guwahati, Dibrugarh, Nagpur, Bhubaneswar, Hyderabad and other major Indian cities are connected with the towns and cities of West Bengal.
By Road:
The Road transport in West Bengal is managed by Calcutta State Transport Corporation, the North Bengal State Transport Corporation, the South Bengal State Transport Corporation, the West Bengal Surface Transport Corporation, and the Calcutta Tramways Company. There are also many private bus operators which connects various cities in West Bengal. Taxis and auto rickshaws which often used for specific routes in cities.
Major road connections are NH 2 from Delhi, NH 5 from Chennai, NH 6 from western India and NH 31 from Guwahati.
If you have any suggestions, feedback regarding How to reach West Bengal/ road information, West Bengal flight, airlines information, which train to catch to reach West Bengal or You want to add/remove any particular information on this "How to reach West Bengal page" then please email us at: support(at)traveldealsfinder(dot)com (Do mention the URL of page for which you are making any suggestions).
Note
: All the West Bengal map images/ Videos of West Bengal belong to their respective owners. We have used West Bengal images & videos for information purpose only. If you are the owner & want to remove that image/video then do write us at mentioned email. Information on Flights, Rails, Road distance to West Bengal may be differ from actual so we request you to check Indian Railways, Airlines and other related West Bengal tourism department Govt website of for latest updates.