How to Reach Himachal Pradesh
Planning to Visit Himachal ? Find the various ways to travel to Himachal by Road, Cars, Trains, Indian Railways, Flights, Airlines and Airports in Himachal.
Location of Himachal Pradesh
Himachal Pradesh is located in Northern India and is bordered by Jammu and Kashmir on the north, Punjab on the west and south-west, Haryana and Uttar Pradesh on the south, Uttarakhand on the south-east and by the Tibet Autonomous Region on the east.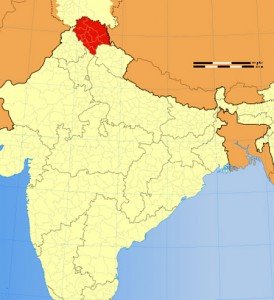 Getting here – How to Reach Himachal Pradesh
By Air (flights)
There are 3 domestic airports in Himachal – Shimla Airport, Bhuntar Airport serving Kullu and Manali, and Gaggal Airport serving Kangra and Dharamsala. The air routes connect the state with Delhi and Chandigarh. There are no international airports in Himachal Pradesh. Air India, Kingfisher Airlines, Jagson Airlines has flights from Delhi and Chandigarh to Kullu and Shimla.
By Trains (Indian Railways)
There are few Railway stations in Himachal. The Pathankot–Jogindernagar line connects Punjab with Himachal Pradesh. The other railway tracks pass through Shimla, Solan and Una. Shimla is connected with Kalka by a narrow gauge railway line, which in turn is connected with the major cities in India. Himachal has two narrow gauge rail tracks. The Kalka-Shimla Railway track has a length of 96 kilometres. It passes through 102 tunnels and crosses 864 bridges.
By Road
Roads are the major mode of transport in Himachal Pradesh with 8 national highways (NH) and 19 state highways. Some roads get closed during winter and monsoon seasons due to snowfall and landslides. Regular bus services connect Shimla with Chandigarh, Kullu, Manali, Delhi, Mandi, Pathankot, Ambala, Chail and Dehradun. Local taxis are the major local transport here. District Hamirpur has got the highest road density in the country.
HPTDC operates daily Volvo/Luxury coach service from New Delhi to Manali, New Delhi to Shimla and New Delhi to Dharamsala and vice versa. HPTDC also operates coaches on the famous Manali – Leh route from July to September.
Himachal National Highway Details
NH 1A touches Shahpur. NH 20 passes through Pathankot, Chakki, Nurpur, Palampur and Mandi.
NH 21 connects Chandigarh with Manali through Mandi.
NH 22 connects Ambala with Kaurik through Kalka, Simla and Wangtoo.
NH 70 passes through Mubarakpur, Amb, Nadaun and Hamirpur.
NH 21A begins at Pinjore in Haryana, passes through Nalagarh and reaches Swarghat, where it connects with NH 21.
NH 88 connects Shimla with Kangra through Hamirpur and Nadaun.
NH 72 begins at Ambala and passes through Amb and Paunta Sahib in Himachal before terminating at Haridwar in Uttarakhand.
If you have any suggestions, feedback regarding How to reach Himachal Pradesh/ road information, Himachal Pradesh flight, airlines information, which train to catch to reach Himachal Pradesh or You want to add/remove any particular information on this "How to reach Himachal Pradesh page" then please email us at: support(at)traveldealsfinder(dot)com (Do mention the URL of page for which you are making any suggestions).
Note
: All the Himachal Pradesh map images/ Videos of Himachal Pradesh belong to their respective owners. We have used Himachal Pradesh images & videos for information purpose only. If you are the owner & want to remove that image/video then do write us at mentioned email. Information on Flights, Rails, Road distance to Himachal Pradesh may be differ from actual so we request you to check Indian Railways, Airlines and other related Himachal Pradesh tourism department Govt website of for latest updates.