How to Reach Madhya Pradesh
Planning to Visit Madhya Pradesh? Find the various ways to travel to Madhya Pradesh by Road, Cars, Trains, Indian Railways, Flights, Airlines and Airports in Madhya Pradesh.
Location of Madhya Pradesh
Madhya Pradesh (MP) is the state located in the central part of India, thus normally called as Hearth of India. MP shares its borders with Uttar Pradesh to the northeast, Chhattisgarh to the southeast, Maharashtra to the south, Gujarat to the west, and Rajasthan to the northwest.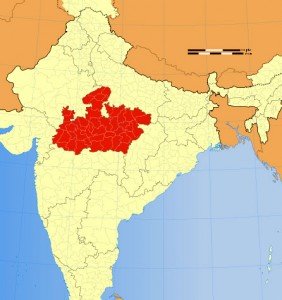 Getting here – How to Reach Madhya Pradesh
Madhya Pradesh is surrounded by land and has a very good network of Road, Rail and Air transport facilities.
By Air (Flights):
There are 5 domestic and international airports in Madhya Pradesh: Raja Bhoj International Airport in Bhopal, Devi Ahilyabai Holkar International Airport in Indore, Jabalpur Airport, Gwalior Airport, Khajuraho Airport. Few other Air strips are located at Ujjain, Khandwa, Satna and Rewa.
There are regular flights from Delhi, Mumbai and Kolkata by Jet Konnect Airlines and Air India.
By Train:
The major railway junctions of Madhya Pradesh are Bhopal, Bilaspur, Bina, Gwalior, Indore, Itarsi, Jabalpur, Katni, Ratlam, Ujjain and Khandwa. Bhopal Railway Station is the key railhead of the state and is served by many important trains that link it to the rest of the county. It is a major stopover for trains like Rajdhani Express, Shatabdi Express, Punjab Mail, Bangalore Karnataka Express etc. An extensive rail network criss-crosses the state, with Jabalpur serving as headquarters for the West Central Railway Zone of the Indian Railways. The state has a total of 20 major railway junctions.
Trains From New Delhi are Madhya Pradesh Sampark Kranti Express, Jabalpur Super fast Express
Trains From Mumbai are Punjab Mail, Pushpak Express, Tulsi Express
Trains from Kolkata are Howrah Bhopal Express, Shipra Express, Sare Jahan Se Accha Weekly Express
By Road:
A strategic network of National Highways and State Highways interlink the cities of Madhya Pradesh to several other cities and states of India. NH 3, NH 7, NH 12, NH 12 A, NH 25, NH 26, NH 26 A, NH 27, NH 59, NH 69, NH 75, NH 76, NH 78, NH 79, NH 86, NH 92 connect the state of Madhya Pradesh with other Indian cities and states.
Madhya Pradesh leads the nation in implementing the Gramin Sadak Nirman Pariyojna, a central government aided programme aimed at developing rural road networks. Jabalpur, Indore and Bhopal have inter-state bus terminal with more than 2000 buses are conducted daily from these three cities.
If you have any suggestions, feedback regarding How to reach Madhya Pradesh/ road information, Madhya Pradesh flight, airlines information, which train to catch to reach Madhya Pradesh or You want to add/remove any particular information on this "How to reach Madhya Pradesh page" then please email us at: support(at)traveldealsfinder(dot)com (Do mention the URL of page for which you are making any suggestions).
Note
: All the Madhya Pradesh map images/ Videos of Madhya Pradesh belong to their respective owners. We have used Madhya Pradesh images & videos for information purpose only. If you are the owner & want to remove that image/video then do write us at mentioned email. Information on Flights, Rails, Road distance to Madhya Pradesh may be differ from actual so we request you to check Indian Railways, Airlines and other related Madhya Pradesh tourism department Govt website of for latest updates.